CUSTOM PRODUCTS
It doesn't cost more for personal service at James Fields and Associates where we combine old-fashioned courtesy with cutting edge technology and provide you with superior printing and promotional products and services. We take the time to find out what you're hoping to achieve and then provide you with the products and services you require at a competitive price and in a timely manner.
Would you appreciate greater customer loyalty and a better return on your marketing dollars? At James Fields and Associates we will help get your company name, logo, messages or services out in the public to be seen, appreciated and remembered.
Are you overwhelmed with your company's printing needs? James Fields and Associates offers our customers all traditional business forms that are customized for your business needs. From graphic design to final packaging, we provide turn-key solutions for marketing items, printing, production and customer engagement programs. We offer a large selection of custom printed forms for a wide variety of businesses that are printed with your company information.  Our business forms are affordable and include invoices, statements, receipts and more!
Snap Outs
Manifold Books
Continuous Forms
Cut Sheets
Laser Forms
Tax Forms
Commercial Printing
James Fields and Associates provide Graphic Design, On-site consultations, Complete bindery services We can take care of all of your printing needs, from a small to large volume. When you call on James Fields and Associates to be your printing partner, your job receives expert care and personal attention from our sales representatives, designers and our production staff.
It is our mission to form a Strategic Partnership with you to assist in all of your commercial printing needs.
Flyers
Brochures
Magazines
All Types of Binding
Booklets
Publications
News Letters
Medical Forms
James Fields and Associates is your complete source for medical office supplies in Oklahoma. We carry the largest selection of medical record products, medical supplies, medical forms and patient chart binders. Whether you are a single physician practice or small business, or a large corporation or medical facility, we are able to provide the products, service, prices, and knowledge to keep your office operating efficiently. We keep a full selection of Medicaid forms in stock and offer a delivery service for your convenience.  James Fields and Associates can custom print your – Medical Encounter Forms, Medical History Forms, Medical Release Forms, Medical Billing Forms, Medical Consent Forms, Medical Treatment Forms, Letterhead, Business Cards, Envelopes & Company Checks, you name it we can print it.
We supply custom.
Patient Folders and Tabs

Prescription Pads and Prescription Protected Paper
HCFA Form
UB04's
Feed Paper
Feed Tickets
Warehousing
The goal of our warehouse is to control the movement and storage of your commercial printing needs in the most efficient manner possible. Utilizing our extensive knowledge we can ensure that your forms and supplies are ready when you need it. As your business grows and changes to keep track of consumer trends and your business needs so does our solution for you.  At James Fields and Associates we can not only warehouse your inventory of paper and custom forms but provide you with local delivery and dedicated support. This approach to paper management ensures you have the products you need when you need it without taking up valuable space in your business.
Call us today to speak to one of our experienced professionals and have us put together a business solution that is right for you today and will grow with you for tomorrow.
Labels
James Fields and Associates provide high-quality custom labels and printed packaging. Regardless of your custom printing needs or the volume of business, we have a solution for your business.
We are a full-service label supplier offering a complete array of products, capabilities, and expertise to meet your specific labeling needs utilizing leading edge of printing technology. We will work with you from conception to completion. We will ensure the materials chosen will not only help you market and sell more of your product but also stand up to the ever-changing conditions through your product's life-cycle.
Labels
Roll Labels
Decals
Laser Labels
Product Labels
Pin Fed Labels
Medical Filing Labels
Binders
Our manufacturing capabilities enable us to create branding quality designs for custom binders and binder covers and presentation folders. Printed Folders are a necessity for any company or organization. Whether you are looking for full-color Printed Binders and Printed Folders with logos, or Customized Binders for giving away to clients and customers we have you covered.
James Fields and Associates offers design services for their custom and specialty ring binders including logo and artwork development, product design, custom material design, warehousing and manufacturing.
Presentation Folders
Presentation Folders
Document Binders
3 Ring Binders
Filing Binders
Medical Patient Folders and Binders
Envelopes
James Fields and Associates ongoing success has been achieved through a continued commitment to offering a range of high-quality envelope products and services tailored to customer requirements. We are a supplier of all types of commercial envelopes including custom envelopes, special window envelopes,  expansion envelopes, bubble and foam lined envelopes and board mailers. With over 90 years of combined experience, we have the expertise to provide you with commercial printing services for your company needs.
We supply a range of custom envelopes including
Commercial and Custom Envelopes
Standard and Specialty Envelopes
Specialty Envelopes
Tie Back
String and Button
Clasp
Checks
James Fields and Associates specialize in quality & professional laser check printing. Our services include computer checks and manual checks, bank deposit slips computer Deposit slips for intuit QuickBooks, & manual deposit slip booklets, security tinted check envelopes self-seal, peel, and seal and regular business check envelopes. You can count on the consistency of our check services.
Laser Checks
Continuous Checks
Multi-Part
Single Sheet Checks
Compatible with all Software
All Current Check Protection Features
21 Protection Features
Printer
James Fields and Associates supply a wide range of commercial printing products including.
Laser Cartridges
Ribbons
Micr Cartridges
Ink Cartridges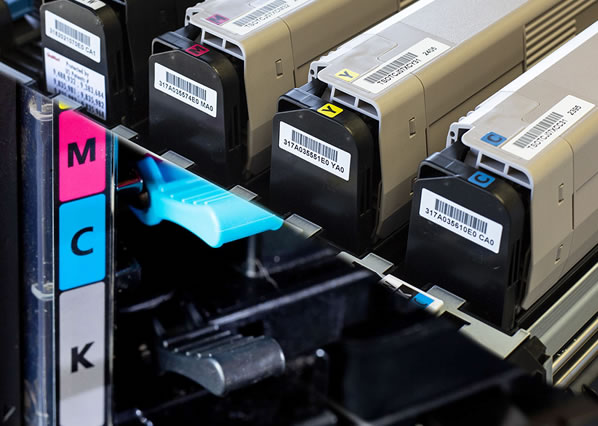 Specialty Paper
James Fields and Associates serves your business with broad product lines, dedicated relationships, industry-specific ingenuity and efficient supply-chain capabilities. As part of our commitment to being your total solution.  We supply a wide range of specialty paper products including.
Plotter Rolls
Specialty Paper
Copy Paper
Computer Paper
If you need it we can provide it with a competitive pricing structure, local delivery and warehouse capabilities James Fields and Associates is your total solutions provider for all your paper and forms and printing needs.