"If It Is Printed, We Can Do It"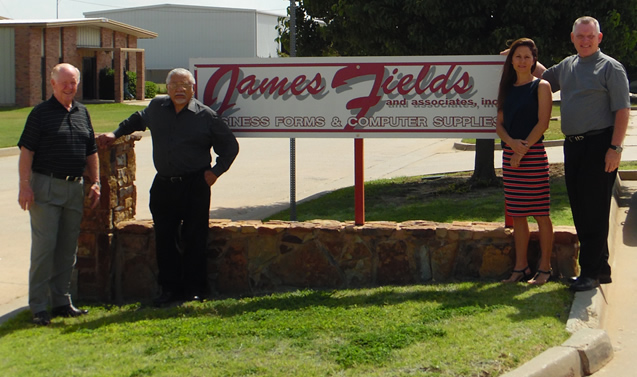 James Fields and Associates
812 S.E 84th Street
Oklahoma City, Oklahoma
James Fields and Associates
With over 90 years of combined experience James Fields and Associates, Inc. is uniquely positioned to provide your business with a comprehensive printing solution tailored to your individual business need.
Our office and warehouse located in Oklahoma City, OK. has warehouse space for customers that need storage space and inventory control.  James Fields and Associates provide a diversification of products and services. No matter the size of your business or the complexity of your business needs we have the experience to provide you with outstanding customer service and support.
Call us to speak with our printing specialists.
Are you overwhelmed with your company's printing needs? James Fields and Associates offers our customers all traditional business forms that are customized for your business needs.
From graphic design to final packaging, we provide turn-key solutions for marketing items, printing, production and customer engagement programs.
James Fields and Associates is your complete source for medical office supplies in Oklahoma. We carry the largest selection of medical record products, medical supplies, medical forms and patient chart binders. Whether you are a single physician practice or small business, or a large corporation or medical facility, we are able to provide the products, service, prices and knowledge to keep your office operating efficiently.
James Fields and Associates ongoing success has been achieved through a continued commitment to offering a range of high-quality envelope products and services tailored to customer requirements. We are and supplier for all types of commercial envelopes including custom envelopes, special window envelopes,  expansion envelopes, bubble, and foam lined envelopes and board mailers.
The power of color in your advertising materials will enhance your companies image and give your product, service and your company immediate name recognition.
Utilizing our extensive knowledge James Fields and Associates  can ensure that your forms, and supplies are ready when you need it.